Welcome to the Big Social
YOU are a good food champion! By hosting a gathering with friends and family, you're cooking up big change in your community.
Each and every donation you collect goes towards essential food programming — whether cooking classes for seniors, food literacy for kids, or healthy meals and groceries for low-income families.
The resources below will help you meet your fundraising goals and showcase your delectable efforts!
Promote your event
Here's everything you need to promote your event, ask for donations from guests or encourage your pals to host their own meal.
Our awesome resources range from Facebook frames, fillable Stories templates and sample posts to email copy you can adapt and send to your guests.
Get Started
Use the hashtag #BigSocial so we can reshare your content!
Follow us for ongoing content you can reshare. Tag us in your posts, too.

Twitter: @placeforfood

Instagram: @placeforfood

Facebook: CommunityFoodCentresCanada
Images
Facebook, Twitter and LinkedIn
Share your involvement!
Help build momentum and create a buzz by sharing that you registered for The Big Social.
Sample post copy:
I'm excited to host a meal for the #BigSocial — a national event that raises funds for low-income communities. Let's cook up some good!

I've registered for the #BigSocial 2020, to share food and change lives. Learn more: bigsocial.ca
Tag: @aplaceforfood
Share the website: bigsocial.ca
Encourage others to host!
After you've selected your event participants, share the love and ask others to host their own events! Or, if you are a guest attending an event, adapt the copy below to help get the word out.

Sample post copy:
Join me for The Big Social, the national food party where you share food and change lives. Cook up some good with me and communities across the country! #BigSocial
Tag: @aplaceforfood (+ all your friends)
Sample email copy:

Hello! I'm hosting a Big Social (Distance Edition) and you can do the same. It works like this:
Gather safely or online with friends and loved ones.

Connect and have fun over food.

Raise money for life-changing community food programs.

Are you with me? Let's come together to help our neighbours access good food and a stronger future. Learn more and register now at bigsocial.ca.
Have fun, raise funds!
Share the impact of your good efforts with the assets below. Include them in your email invitations and reminders to guests or share on social to spread the word!
Suggested social media post copy:
Let's set the table for change! I'm hosting an event for the #BigSocial to support low-income communities to access healthy food.


Come together. Eat together. Give together. The #BigSocial is a national fundraiser that brings healthy food to low-income communities. I'm proud to participate!
Tag: @aplaceforfood
Share: bigsocial.ca
Suggested email copy:
Dear guests,
I wanted to tell you more about how your donation to my Big Social event will cook up much-needed change.
By attending my event and making a donation, you'll support low-income communities to access healthy food and a stronger tomorrow.

Our neighbours need us to take action more than ever: 1 in 7 people now experience food insecurity because of the pandemic. With an uncertain economic recovery ahead, this is bound to increase. But with The Big Social, we're coming together in a meaningful way to fight food insecurity.
Thank you so much for your generous contributions. It feels great to support such a good cause with good folks like you.
FUNdraising tips
Here are a few simple ideas to help make your Big Social event a fundraising success. Read on for tips about going virtual, connecting cross-country and staying safe.
Set a fundraising goal. Consider how many guests you're inviting and how many donations you'll need to reach your goal.

Donate to pave the way! By self-donating first, you'll motivate your guests to follow suit.

Personalize your page. Your fundraising page should be a reflection of you! Add a personal message about why you're hosting and share the direct link to inspire others.

Invite your family and friends! Send those invites out. Gather your closest, whether safely in-person or online, and be sure to ask for donations.

Share the impact of your efforts. Check out the impact page and social posts for ways to connect your guests to the cause.

Can't attend? Donate, please! For family and friends who can't make it, ask if they can donate to still support your Big Social. Every little bit counts.

Follow-up! Schedules get busy. Send a reminder email and consider following up with any guests who haven't RSVPed.

Dine with meaning. If you haven't reached your fundraising goal by the day of your event, not to worry. The day-of is a great time to motivate, connect and share the cause.
Back to top
Go virtual
To stay safe and healthy, consider hosting a virtual event. We've got some fun ideas below to help you out. Follow us on social for ongoing tips and to stay connected! If you choose to host an in-person event please review and follow all local public health guidelines to ensure you and your guests stay safe and healthy.
Choose your channel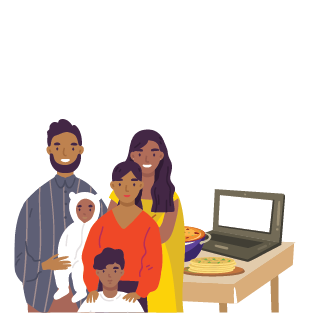 Zoom, Google Meet, and WhatsApp all are free ways to connect. Set up your laptop or phone on a stack of cookbooks and share food!
Cross-country (or global!) toast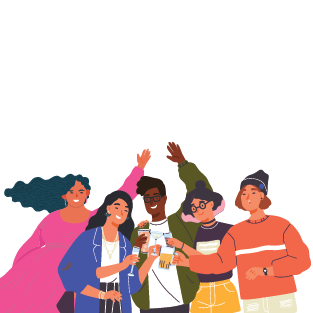 The beauty of a virtual event is that you can "cheers" your friends across the country — or the world! Pick a time and toast to share food for a good cause.
PJs only, please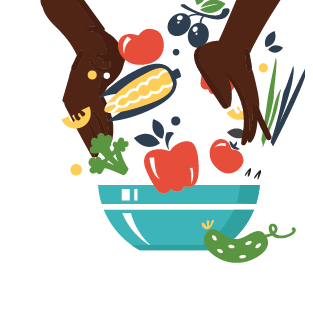 There's nothing like eating in your PJs. Forget the fancy and embrace the jogging pants as you enjoy dinner with friends.
Take one with the team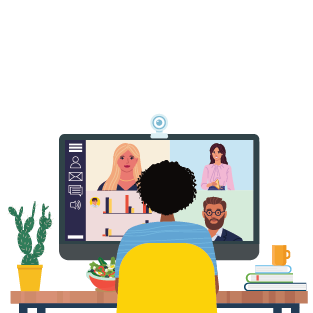 If hosting an event with coworkers, be sure to pause and take a Zoom shot holding up your plates or cups — and share on social!
Family recipes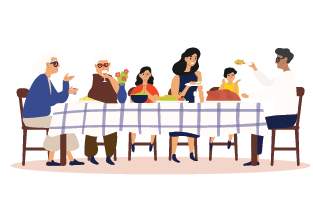 Share recipes from your family, culture, or a special moment in your life. Everyone can cook from the same recipe, follow a kitchen leader, or prep separately and then share the story behind the dish.
Chef-off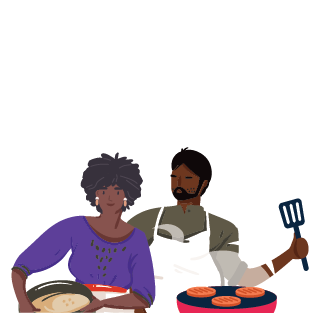 Have a friendly competition between friends and family on who can make a better-looking meal.
Zoom: Eat from anywhere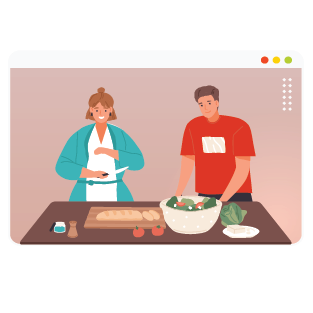 Download the fun backgrounds to add some zest to your dinner! Here's some instructions on how to upload these to your Zoom account.
Back to top